TABLE OF CONTENTS
A Message from the President
From Professional Development
From the Finance Division
Volunteer Shout Out
Congratulations to Our Certified / Re-Certified Centers



A Message from your President!
Dear NCTA colleagues,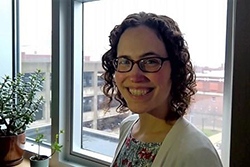 Thank you for the opportunity to serve as NCTA's President (2022-2024). I am honored to be a part of an engaged, supportive, and knowledgeable group of professionals. As I transition to the Presidency, I want to thank each of you for making NCTA a resourceful and collaborative space. Your presence and willingness to volunteer are what drives NCTA's mission and goals. If you haven't already, I encourage you to check out opportunities to get more involved (Volunteer!).

It has been a long while since NCTA members could gather, learn and share our experiences, and make connections. Thank you to everyone who was able to join us in Chicago in August, and a special thank you to our Sponsors who helped make the conference possible. During the conference, my first act as President was to thank Rachel Hample for her incredible leadership during the past two years and I would be remiss not to share with all those who could not attend. We all faced unexpected challenges during this time, responding to a global pandemic, budgetary and staffing uncertainties, and constant adaptation. NCTA is fortunate to have had Rachel unwavering leadership throughout one of the most demanding periods in higher education and testing. Serving in leadership is never an easy task. While there is a great deal of publicly recognized work involved, it is an understatement to describe the work of the past two years as "the tip of the iceberg." Rachel approached her presidency with dedication, integrity, and conscientiousness, and I appreciate the opportunity to work closely with her over the past year as President-Elect, and this coming year as she serves as Past President.

For those attending conference, we also shared the news that Jody Atkins (Operations Manager and Comptroller) is retiring in December. Jody and her company, Association Source, have worked with NCTA since 2015. I hope you will all join me in extending thanks to Jody, and wishing her a happy retirement!

During the past few months, NCTA has completed a number of major tasks, including:
2022-2025 Strategic Plan – With leadership from Jan Gonzalez, the Strategic Planning ad hoc committee and Governing Council completed our new strategic plan. This plan will guide NCTA's work over the next few years, ensuring that we continue to move forward on our mission.
Bylaw update – Governing Council drafted updates to the bylaws and sought member feedback. The bylaw update was approved by membership vote in spring 2022. Members can view and download the latest version here.
In spring 2022, elections were held for incoming Governing Council members (two board member positions and treasurer-elect):

Arrayon Farlough-Rollins was re-elected to the Governing Council this year – moving from Chair of Professional Development, to Co-Chair of Membership Engagement. She will co-chair this division under the mentorship of Diane Patterson.
Tammy Roach has served on the Governing Council previously, and is returning this year as co-chair of Partnerships & Collaborations, under the mentorship of Kim Bright.
Continuing as Treasurer and Chair of Finance Division is Cindy Meza, who is joined by Treasurer-Elect Valentina Burton this year.
Continuing on the Governing Council in 2022-2023:

Growth and Outreach will be Chaired by Naora Ben-Dov, who has served as co-chair this year with Jan Gonzalez
Professional Development will be Chaired by Sally Carter, who co-chaired this year with Arrayon Farlough-Rollins
And Professional Services will be Chaired by Charity Chia, who co-chaired this year with Bill Thelen. Our thanks to Bill for serving on the Governing Council since 2017, as well as his willingness to volunteer on other committees such as Grants in Finance Division. Bill, we appreciate your help and guidance to other members – and your stories and jokes that always manage to trick me.
Governing Council voted to approve a new NCTA Division – Administration – focused on the creation, organization, and distribution of documents and communication, as well as organization and maintenance of historical documents and timelines for NCTA. We welcome Jan Gonzalez as initial Chair of the new division, which will serve a vital role as our current Operations Manager and Comptroller, Jody Atkins, retires in December. NCTA also formed a search committee to seek out a new association management company, and will keep membership apprised of changes.
The Proctor Certification Exam Development ad hoc committee completed the Job Task Analysis which led to creation of the exam blueprint. We are actively working on item development with a great group of volunteers. Additionally, Governing Council approved the formation of the Proctor Certification Committee as a standing committee in the Professional Services Division. The newly formed committee will oversee development of certification policies and procedures, and manage operations of the certification going forward.
With Bill Thelen chairing, NCTA published a white paper, "The Ideal Test Center," as a resource to help members renovate existing centers and design new facilities. Thank you to Bill and to Sherry Machacek for leading a wonderful discussion at the conference as a follow-up to this project.
The Journal of the National College Testing Association Volume 5 (1) was published in spring. Thank you to Dr. Gladys Bennett and Dr. Sally Carter for authoring papers for this volume. Editor of JNCTA, Dr. Steve Saladin, was appointed in the spring. JNCTA is always accepting manuscripts for review.
NCTA continues to be at the forefront of professional standards and guidelines in testing. I am excited for this coming year, and getting to share updates on important work with you all. Thank you to everyone that contributes to NCTA's mission – it would take more than a newsletter to mention each of you and how integral you are to this organization.

NCTA Proctor Certification
NCTA is partnered with Meazure Learning to design a Proctor Certification exam. Dr. Cindy James (President, Canadian Higher Education Testing Association) and Dr. Sara Rieder Bennett (President, NCTA) are co-chairing the ad hoc committee on exam development, which completed job task analysis in spring 2022, and is currently in item development. The goal is to establish a process to evaluate and certify proctors, and it is intended to demonstrate minimal competency in understanding and applying the tasks and tools necessary to properly proctor an exam; demonstrate and adhere to best practices related to proctoring; test whether an examinee knows what actions to take in certain situations related to proctoring; standardize the processes and procedures related to proctoring, knowledge of test concepts related to administration. The purpose is similar to the Test Center Certification, but certifying that an individual has demonstrated competence.

Cindy and Sara co-presented with Meazure Learning psychometrician Andrew Dedes at the 2022 Annual Conference, with slides available on the proctor certification website. The NCTA Governing Council also approved formation of a standing Proctor Certification Committee, whose responsibilities include developing the candidate handbook and policies regarding certification. For those interested in volunteering, please contact [email protected]. NCTA hopes to launch the certification in spring 2023. Thank you to all who have contributed so far!

Sara Rieder Bennett
NCTA President

Back to Top
---
From Professional Development
NCTA Conference Proctor Games Winners
Congratulations to our Proctor Games winners! Proctor Games are a fun activity held at the annual conference. In Round 1, participants take a multiple-choice test over their proctoring knowledge. The top 12 scorers received an ink pen made by DigitalDesk's Gale Skousen. The top nine scorers were divided into three teams to compete in Proctor Games Round 2. During Round 2 the participants had to proctor a panel of judges who scored their team. The winning team members each received a pen holder made by Gale and a trophy and a year's worth of bragging rights.
| | | |
| --- | --- | --- |
|   | Individual Winners | 1st Place Team Winners |
| 1st | Melanie Marine | Donna Rodriguez |
| 2nd | Bhiyyih Baker | Jamie Howerton |
| 3rd | Jackie Mitchell | Jackie Mitchell |
| 4th | Lisa Borre |   |
| 5th | Kenda Ruserlyn |   |
| 6th | Jamie Howerton |   |
| 7th | Tristan Zamp |   |
| 8th | Tricia Mathis |   |
| 9th | Donna Rodriguez |   |
| 10th | Jeanine Bell |   |
| 11th | C Criss Gilbert |   |
| 12th | Naora Ben-Dov |   |
Fake ID Research Project
Jarret Dyer and Sally Carter are conducting a research project to determine the frequency proctors detect fake IDs. NCTA Conference participants were able to participate in live research where they viewed 25 IDs and indicated whether they believe the IDs were valid or fraudulent. They are now asking for volunteers to participate remotely through the use of a webcam. Participants will be shown an ID and asked to identify the ID as valid or fraudulent. Each participant can ask the researcher to move the ID closer to the camera, farther away, tilt the ID, etc. All results will be anonymous with no PII on the response form. It is estimated to take 30 minutes to complete the research.

If you would like to participate, please contact Sally Carter ([email protected]). You do not have to be an NCTA member to participate. Monday through Friday between 2:00 PM and 5:00 PM Central is the preferred times for the research, but other times are available. Altogether they are looking for 100 participants. Multiple proctors from your site can participate on the same Zoom call. Sites with more than five proctors may have to split their participation into multiple days.

Meme Contest Winner
Congratulations to Caylen Redden from Purdue University. Caylen's meme won first place in NCTA's first meme contest. Start making those memes now for the 2023 contest.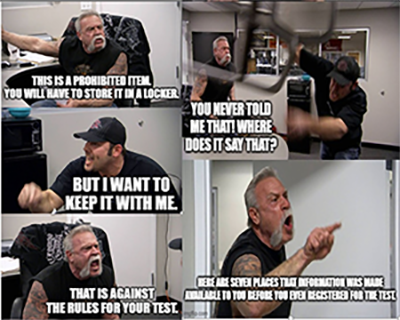 ---
From the Finance Division
Congratulations NCTA's 2022 Annual Grants Program Recipients
Heartland Community College
Heartland Community College intends to sponsor a "Test Fest" retreat this fall. The retreat will occur over two days with professional development workshops for testing professionals.  The event will offer an opportunity to discuss best practices and review of standard procedures as they acclimate to a new larger facility.
Casper College-WyoCTA
The last WyoCTA conference was held at UW in Laramie in June 2019. The Casper College Testing Center will host a professional development event to discuss current testing center issues. Seasoned members of WyoCTA have left their positions in recent years thus networking with new staff will help sustain the organization, exchange ideas and best practices.
Troy University — The Alabama Association of Testing Professionals (AATP)
AATP would like to host the 4th Annual AATP Conference in October 2022 to provide professional development sessions and keep members abreast of industry changes and trends. To consider social distancing guidelines due to the COVOD-10 pandemic, they reserved a new venue that will provide enough comfortable spacing to hold the number of guests anticipated.

NCTA 2023 Annual Grants Program Timeline Announcement
It is not too early to think about proposing a professional development program or research project! The 2023 Grant cycle will begin accepting applications on Monday, December 5, 2022. Application will close on Friday, February 2023.

For additional information about the NCTA Grant Program visit:  https://www.ncta-testing.org/grants-program.
NCTA Grants Program Committee
Shout out and Thank You! We'd like to recognize and thank volunteers that keep the Grant Program operating. Thank you co-chairs Kimberly K. Bright and Alex Martinez for their continued leadership and thank you to committee members Erik Arroyo, Kim McCrackin, Bill Thelen, Roberto Voci, and Dr. Amystique Church for all of their efforts and time to this program. 
Seeking Volunteers - The NCTA Grants Program Committee is seeking a co-chair and committee members to assist in the review of grant applications.  If you are interested in being part of this committee, please complete the volunteer form or email

[email protected]

Finance Division - Treasurer-Elect
Valentina NT Burton was elected to serve as the Treasurer-Elect during this year's elections. She brings a wealth of experience and knowledge that aligns well with NCTA's strategic goals and mission. We are excited to have her be part of the Finance Division!

Sponsors
We would like to thank our NCTA 2022 Conference sponsors for their continued support and helping make the first (back) in person conference a huge success!
Platinum Sponsors



Gold Sponsor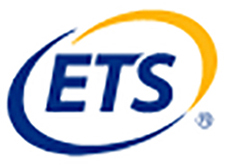 Silver Sponsors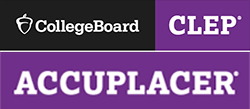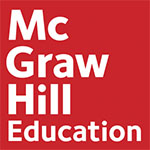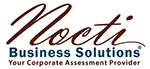 Bronze Sponsor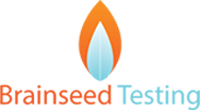 ---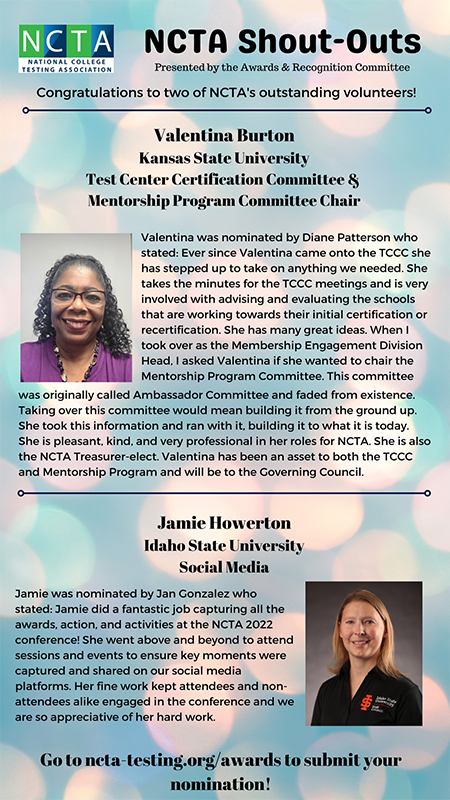 ---
Congratulations to Our Certified/ Re-Certified Centers
Certified (NEW)
Roanoke Higher Education Center (VA) – March 2022
Seminole State College of Florida Sanford/Lake Mary campus – March 2022
Bellarmine University (KY) – April 2022
Palm Beach State College Loxahatchee Groves (FL) – July 2022
Seminole State College of Florida Oviedo – July 2022
Alabama State University – August 2022

Recertified
Monroe Community College (NY) – March 2022
Eastern New Mexico University Roswell – March 2022
Waubonsee Community College Sugar Grove campus (IL) – March 2022
Waubonsee Community College Aurora campus (IL) – March 2022
Waubonsee Community College Plano campus (IL) – March 2022
University of Central Florida Orlando – March 2022
Rose-Hulman Institute of Technology (IN) – March 2022
Florida SouthWestern State College Edison (Lee) campus – March 2022
North Carolina Central University – March 2022
Ozarks Technical Community College (MO) – April 2022
Nova Southeastern University (FL) – April 2022
Ball State University (IN) – April 2022
Brookdale Community College (NJ) – April 2022 2nd recert
The University of Toledo (OH) – April 2022
Northern Essex Community College (MA) – May 2022
Salt Lake Community College South City campus (UT) – May 2022
University of Tennessee Knoxville – May 2022
Palm Beach State College Lake Worth (FL) – June 2022
National Park College (AR) – June 2022
Savannah State University (GA) – June 2022
Florida International University Biscayne Bay – June 2022
Palm Beach State College Boca Raton (FL) – June 2022
Northeast Wisconsin Technical College – July 2022
Palm Beach State College Beach Gardens (FL) – July 2022
College of Southern Maryland – July 2022
College of DuPage Westmont (IL) – July 2022
Michigan State University – July 2022 2nd recert
Joliet Junior College (IL) Main Campus – July 2022
Joliet Junior College (IL) Romeoville – July 2022
Mississippi State University – July 2022
Tacoma Community College (WA) – August 2022
Auburn University Biggio Center (AL) – September 2022
Palm Beach State College Belle Glade (FL) – September 2022